Washington Elementary School is one of previously three public elementary schools in Hibbing- Washington Elementary, Greenhaven Elementary, and the now closed Jefferson Elementary. Its construction was completed in 1956 and the grades of the school have been adjusted multiple times. It began as a kindergarten-sixth grade school and has now been a kindergarten-second grade school since the 2005-2006 school year[1]. It has also been a kindergarten through third grade school[2].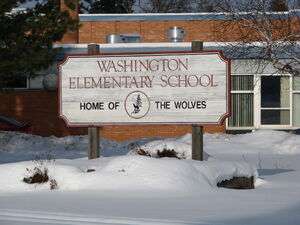 Students at the Washington participate in various festivities and celebrations throughout the school year. One such activity takes place near Thanksgiving; kindergarteners make paper costumes and dress up as pilgrims to have a "feast" in the hallway. Choir concerts are also a part of Washington Elementary's activities in which students sing patriotic songs such as "This Land is Your Land" [3].

Students are taught art, music, media and physical education in addition to classroom curriculum. The projected enrollment for 2010-2011 was 260 students[4].
---
[1] "Hibbing Schools" (2010). "Washington Elementary." Hibbing.k2.mn.us. Retreived:1-1-11
[2] Interview with Former Student Written. 12-17-2010
[3] Interview with Former Student.
[4] "Hibbing Schools."
Ad blocker interference detected!
Wikia is a free-to-use site that makes money from advertising. We have a modified experience for viewers using ad blockers

Wikia is not accessible if you've made further modifications. Remove the custom ad blocker rule(s) and the page will load as expected.